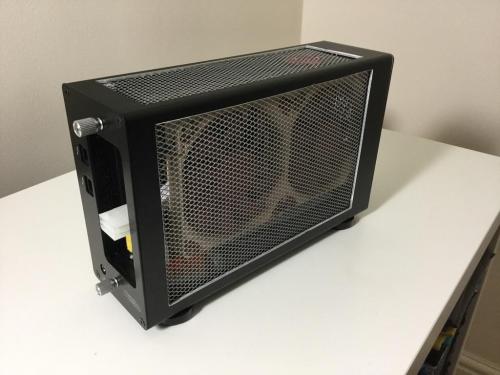 I've been sitting on this build for a while, meaning to make a build log but its been so long I've forgotten most of it! 
So here's the short and sweet version!
My previous build with this card was a water-cooled wall mounted windows gaming machine. This was a great rig for a former student just having started a new job with still a fair bit of time on his hands... Then things got busy, and the water beast became stagnant. Long story short, I converted to mac mostly due to requiring portability yet still wanting a powerful machine that wasn't a total door stop to carry around.
So it became that a GTX 970 soon found its way on my book shelf in a nice compact case. Just for kicks, heres my old rig!
Firstly, why did i drop the water-cooling? The original plan was to make a similar wall mounted eGPU. After some pondering I came to the conclusion that this particular card I owned wasn't much of an overclocker. I hadn't actually bothered unlocking the card or overclocking it a whole lot. I had planned to do it, but it had never happened. For 5 months I had used the card running on stock power and it was still maxing out games on my 2560x1080 ultra wide. 
I went ahead a bought the Akitio thunder 2 off a german website, delivered to the UK within two days for a very good price!
I initially used a 120W 12V power brick to run the card, clearly this didn't cut it, and the card would die instantly on load. I resorted to grabbing a Dell DA2 18A power brick and things started working great!
This post by dschjin inspired me to try the noctua fans with the stock heatsink. To my surprise they worked very well and I was getting great temps under load. I could even hold my previous water-cooled overclock and it would hang around 75 degrees C.
I then proceeded to create a funky case cooling design, and two days of drilling later I ended up with this!
It looked great! But it was an awful cooling solution... absolutely useless, wouldn't even hold stock settings before throttling...
I then decided to cut out the entire side and top panel with the idea of finding a grill/mesh material to put in its place. I ended up going with a desktop wire magazine holder like this one:
Here it is cut out
I then cut it to size and slid it between the fans and the edge of the aluminium case. Its all very much a tight fit and required a lot of effort to close while keeping everything in place.
I used some PCIe power extenders that plugged on the top of the card as two six pin power. They required trimming of the plastic and heat shrink to get the clearance:
As you can see the sharp inside of the aluminium enclosure already mangled the nice new heat shrink!
The fans are also just about held in place with some bits of plastic. Due to the design of the heatsink, the fans couldn't be sat flush without having to cut some metal tabs and bending things. the way it is now lets the fans sit tight between the mesh and the heatsink. Once the case is closed, nothing can move.
I then added a power switch with LED (switch contacts go on the dell PSU and led goes to the existing led pins on the Akitio motherboard.
chopped up 24pin ate connector is in there as a total bodge job. The wires are breaded in pairs and simply pass through the vent holes of the card. Too easy! The wires are stiff enough that it doesn't really matter anyway.
Finally, here are a few of my favourite things!
Electrical tape to cover up sharp edges of steel.
3M VHB tape can stick anything to anything like foam tape! Then come off like it was never there. I swear by this stuff!
sharpie to coverup dings and dents
Wago wire to wire clamps, these things are quicker and much more reliable than terminal blocks if you're too lazy to solder wires together. Like me!
stick on foam to space out bits of floating mesh grill and make a snug fit
mains powered dremel with EZ click metal cutting disk. This thing makes short work of thick aluminium.
And don't forget boys and girls, always wear protection!
Software woes
Lets just say the hardware was the easy bit.. I started out with a bootcamp of Windows 10 and the card would just about start. It seemed very unreliable, sometimes it would work everytime, then I'd get home one day and the thing just didn't want to start..
Optimus made everything worse, though it was great when it worked.
I ended up going to several installs of windows 10 and 8.1, even a UEFI rebuild..
Finally I gave in a resorted to OSX drivers. Automate GPU is fantastic and it just works. I've been very surprised how well most of my steam library works on OSX. I had a nice surprise the other day when I found out Thief was available for OSX and that sold it to me. I got rid of my windows partition and all my gaming is done in OSX now.
Overall this seems to be a great solution for portable computing and still having the ability to run desktop graphics. I've been very surprised and look forward to Thunderbolt 3 where this should be natively supported!
For those interested, I did manage to get a fair bit of overclocking done within windows when I had it working, here are the results:
CPU temps:
Card info:
Over thunderbolt:
running this card on a Z77 desktop motherboard with i5 3570k @ 4.2GHz gave :
In OSX again:
---
3
Report Article