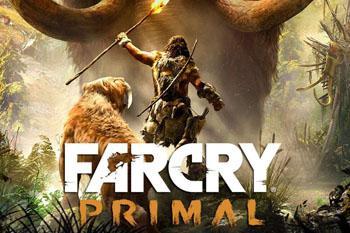 Far Cry: Primal is the latest iteration of the Far Cry series, set in year 10,000 BCE. You play as a man named Takkar, a Wenja tribe member. Your tribe has been seperated and split up due to ongoing conflict between two imposing tribal factions, the Udam tribe and the Izila tribe. You instantly jump into action hunting a Wooly Mamoth and Takkar's journey begins. As Takkar, you must navigate through many different types of terrain, all of which are absolutely gorgeous and well detailed. From caves to fairly dense forests and glacial areas, this game is beautifully detailed. 

Visually speaking, this game is a treat and offers eye candy superior to that found in Far Cry 4.
So how does it play?
The gameplay of Far Cry: Primal is extremely satisfying. Coming from a huge fan of first person shooters and tired of the standard M4's and AK's this game provides very smooth and fun bow and arrow ranged combat. What's that? Guy in a wooden guard tower? No problem, lets torch our arrow and catch the whole thing on fire with him in it! It is some of the best ranged combat I've come across, it's fluid, fast, and fun. When enemies come in close though, it gets very interesting. You can perform either a series of fast attacks, slow and powerful, or a combination of them to out perform the enemy AI.
Another unique thing I noticed was you don't have a crosshair visible when you have a club out, you may ask why, it's because your melee swings don't just target one enemy, but have a full range swing hitting many if you're surrounded. The ability to tame new animals and utilize them in combat scenarios is so much fun as well, nothing beats finding a pet in the world and then sending it to go hunt your enemy down. Throughout the game there's many different animals you can tame ranging from wolves to leopards to big brown bears. A nice little touch of being able to pet your animal was also implemented and makes you feel like there's a larger bond with your little companion. 

  Petting my newly tamed animal
As for the missions, there's a decent variety of them, most of which you get to go free a tribe member by wiping out a random amount of enemies or you liberate an outpost held by enemy tribes. Whether you want to be stealthy and take them out or be in their face getting personal with melee weapons is up to you.
We had a slight issue with the current inhabitant of this camp..  
 This is what the village looked like before I was tasked with turning it to ash. 
There are also animal vision quests which make you play as an animal and set out to do specific tasks per creature. For example your first vision quest leads you to be flying behind a creature which sends you through multiple screens of beautiful terrain and landscape following behind your spirit animal. Every subsequent vision quest will present you with the these same feelings just invoked on different animals. 
                                                                                                                                                              Mammoth vision quest.
The vision system you learn about from the very start of the game seems to add a fun unique way of planning your attacks against enemy tribes or helping you locate resources. This enables you as the player to not feel like gathering is a tedious and painful task as it's much easier to notice the crafting materials and it's not nearly as "grind" feeling as some other games which require gathering. This is extremely helpful to you as the player because this game does force you to utilize the crafting system quite frequently to make arrows, upgrades to your tribe, first aid, and so forth. In the video posted at the bottom you can see this in action.
Caveman MacGyver
So about this crafting system, lets take a quick peek at it. As you can see from the picture below there's a good deal of things you can craft in Far Cry: Primal. Some of these items are useful, others, not so much. The bow upgrade is a must along with the spear and club. You can also upgrade your pack which is where you store all of your supplies when you're out of your village. The game gives you many different ways you can attack the opposing tribes which is pretty fantastic. Want to use a bee hive as a bomb, done. Throw stones at their face, easy. As you progress through the story you'll notice more and more things becoming unlocked for you as you rescue each of the individual key tribe members, so pay attention as you play through the story to pick the tribe members with the upgrades you want in the right order.
The crafting/upgrading page.
Another crafting system you can utilize is the quick crafting menu, this menu is used frequently when you're taking over a very large outpost or you forget you're low on supplies and in the middle of combat. This screen is absolutely clutch for so many reasons. This is the screen you use to craft more arrows, more clubs, spears, extra meat for taming, and adding rocks for your slingshot. Holding Q will bring up this menu which is almost mandatory to be used when you're taking over the extremely large outposts because when you're fighting sometimes your clubs will break, you'll eventually run out of arrows or spears and this page is your savior. The best part about this window though, it doesn't cause a "freeze" in the game, the game is still playing it just simply slows down time so if you're being attacked by enemies bringing this window up won't save your life but it does cause you to be rather quick on your decisions if you're low on supplies.
The quick crafting menu.
Within the world of Far Cry: Primal, you also have a very extensive skill tree which is comprised of all the important villagers you have met and brought back to your tribal town. This is the bread and butter of crafting and survival, it will make your life so much easier. There's 8 different members each with skill trees which help different elements of your game. One may help you with making your crafting supplies more efficient, another may help you increase the size of your map and notice more resources on your minimap. Another may help you with your animal abilities and taming. Every aspect of the game has a skill that will help you in your quest of liberating your tribe from the Udam and Izila. 
The skill tree
In the video below, I do a quick run from one of my fast travel spots to go take over an outpost run by the Udam tribe so I can get more crafting supplies sent to my main home as well as a fast travel unlock... and maybe because I just love chucking spears and shooting my bow at bad guys. In it, it shows the primal vision, the quick craft menu, a good bit of combat showing the three primary weapons (club, bow, spear), and how to take over an outpost. The AI didn't act like I would have expected but I think I simply eluded their vision quick enough to not get the horde in my face and allowed me to pick them off without being caught out much.
The final word
The story is fairly short and the game feels like a reskinned version of FarCry 4 set in 10,000 BCE. I say this simply because the map that was utilized in Far Cry: Primal is almost a direct replica of Far Cry 4, as well as the campfire/fast travel locations. Now I'm not knocking on the previous iteration as I enjoyed that game quite thoroughly, I just think this game could have offered more to the user aside from a pretty visual element tackled with a mediocre story line in the dying age of single player games.
What I found quite unique was the fact that there is no English, Spanish, French, any modern or common language. The game is spoken in a made up language and that's really unique and something I thoroughly enjoyed. As for re-playability, even after completing the main story, FarCry: Primal offers a lot of side quests and activities to keep you busy. For example, your village is still begging to be upgraded and you can still bring in more of your tribe to create a little mini city.
Overall I feel this game is quite fun despite some of its shortcomings and if you're looking to grab a copy, then I'd recommend checking out Green Man Gaming.
---
2
Report Article