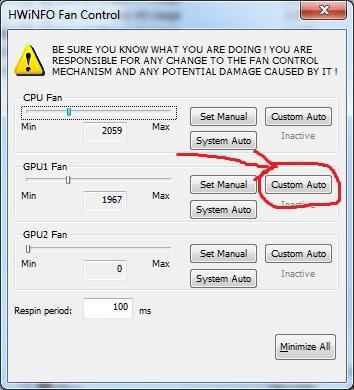 I've seen a few people asking about heat and I thought I would chime in and say a few ways to keep down the heat! There are a few ways you go about this without opening the computer, for those who aren't to sure about taking a screwdriver to their laptop it may help you. In saying that, if your fans are dirty then this will not help you at all.
I TAKE NO RESPONSIBILITY TO ANY DAMAGE HARDWARE! ANY CHANGES YOU MAKE ARE AT YOUR OWN RISK!
INCREASING THE FAN SPEED
to control your fans use this
http://www.hwinfo.com/download64.html
this is a free program that alot of people use on various computers. it work on alienwares well but im yet to test ROG and MSI with it.
its pretty simple to use
install it and get to this page and click on the sensors button
then on the next screen click the small fan icon at the bottom
unless you want to manually adjust your fan between each time you play click customer auto and you can edit it from there
UNDERCLOCKING
download and install NV tools it can manage fan speeds too but its not always 100% in laptops
http://www.nvidia.com/object/nvidia-system-tools-6.08-driver.html
on the left hand side, under the performance tab, select device settings
now just slide it back in small steps until you are comfortable with the temps. remember that if your computer blue screens it DOES NOT mean your computer has been damaged. it is simply a way for the computer to avoid damage.
adjust the slider in intervals of about 15mhz to be safe and click apply each time. 
start on the core clock and finish on the memory. Every now and again it is good to check on your progress to see how far you need to go. (more on this later)
MSI after burner is a good one too
http://www.guru3d.com/files-details/msi-afterburner-beta-download.html
again the fan control is a bit hit and miss with it but it can control your clock speed. ass per the program above keep going untill you hit a STABLE setting you want.
TESTING
here we will look at the new GPU temps after the tune.
MSI Kombustor is a great way to test your heat. 
http://www.geeks3d.com/20150710/msi-kombustor-v3-5-2-64-bit-v2-6-0-32-bit-download-gpu-stress-test-benchmark/
click on stability and watch the temps. if you see any artefacts stop the test and increase the mhz by 15mhz each
fur mark is the one that i use to test the heat of my alienware
http://www.ozone3d.net/benchmarks/fur/
aim for about 70-75*C.
hope this helps you a bit.
PS avoid EVGA's tuning tool on alienware i have heard it can brick your LCD!
CLEANING THE FANS
Just for the sake of it ill give you a few tips on cleaning your laptops fans out.
assuming you already know the basics of using a screwdriver to open a laptop ill cover a few things to help you.
REMEMBER, IF YOU REMOVE THE HEATSINK YOU WILL NEED NEW THERMAL PASTE!
compressed air is a great way to remove dust and id recommend having a can of it over a compressor. The reason being is that some compressors can fill with a bit of water and can spray it directly into the computer.
you can spray the air into the vents and while it wont really "clean" it it may open enough room for air to pass out. i DO NOT recomend this however.
after opening up the computer and removing the fan take a paint brush and clean the entire fan, get as much of the dust out as you physically can. 
you can use toothbrushes too if you dont have anything else.
make sure you clean the grill behind the fan too as that is where the dust usually builds up.
removing this dust and hair is the most important part of this clean up.
now on to thermal paste.
remove all the old thermal paste from the heat sink and the CPU with a dry cloth then, use isopropyl alcohol to clean the rest.
some people seem to think that more is better but this is completely not true! if you put a large amount of thermal paste on the heatsink you will actuall have hotter temps.
this is due to either:
A ) the heatsink is not geting enough connectivity to the GPU as the layer of thermal paste is too thick
B ) too much of it creates small pockets of air, these air pockets become super hot and that causes more heat on the GPU
the correct amount is roughly the size of a pea
even that is boarderline too much.
Dont spread it around instead place your heat sink over it as even as possible and screw it down in a X pattern for an even spread.
really hope this helps you and good luck!
Continue discussion in original thread here. 
---
4
Report Article